I FINALLY TRIED THE NEW VEGAN MULTIVITAMIN EVERYONE'S TALKING ABOUT - HERE'S WHAT HAPPENED
---
---
When I first heard that I'd be reviewing a multivitamin I chuckled, smugly. Honestly, when people start talking to me about supplements, my eyes glaze over and I feel a sense of pity for my poor friend that was duped into taking expensive fairy dust.
Surprisingly, the brand behind this multivitamin agreed with my skepticism. Even more surprisingly though were the discoveries I made as I tried to answer my first question for this review: Do vegans really need to take vitamins?

Have you ever had someone tell you that a vegan diet is unhealthy? They're the same people that usually tell you that you need meat for protein and cow's milk for calcium. I've certainly been there. I then politely (ahem) explain that vegan diets actually result in a lower risk of cardiovascular disease, obesity, type 2 diabetes, and some cancers. That quickly quietens them.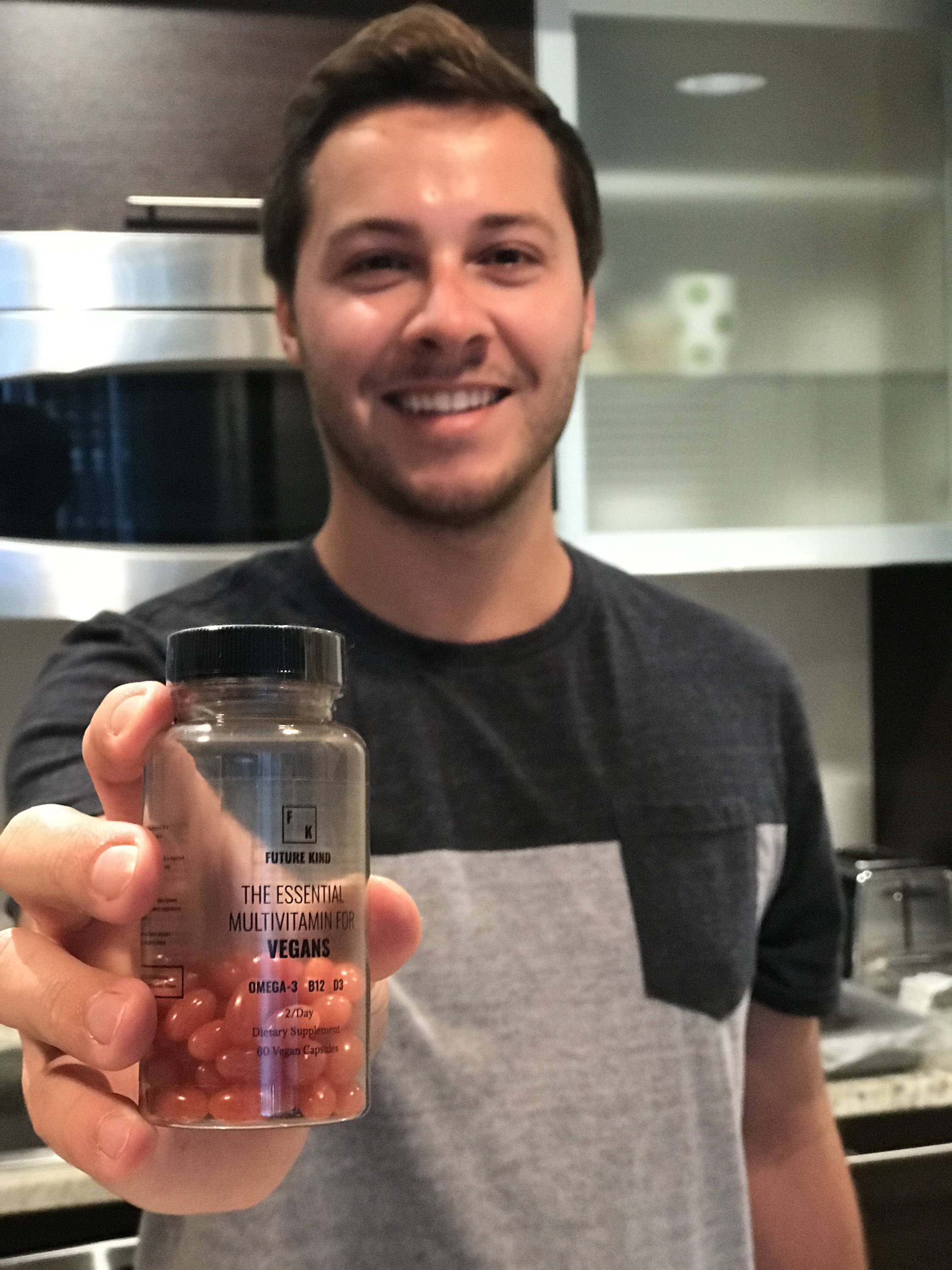 "In fact", I'll explain, "because we vegans eat so many fruits and vegetables" (hands on hips), "we usually get significiantly higher levels of many vitamins, like vitamin C and E, and minerals, like magnesium".
Well, as I discovered, vegan diets do tend to be lower in some things. To start, they're lower in calories, saturated fat and cholestrol. All good news so far. However, they also tend to have less omega-3, vitamin D, calcium, zinc, and vitamin B-12. Not so good news.

But can't we just get these all by eating more healthy foods? Well, with calcium and zinc we certainly can by eating more beans, seeds and nuts. With omega-3, vitamin D and B-12 though, it's a little more complicated, which is where Future Kind comes in.
 
here's what i learned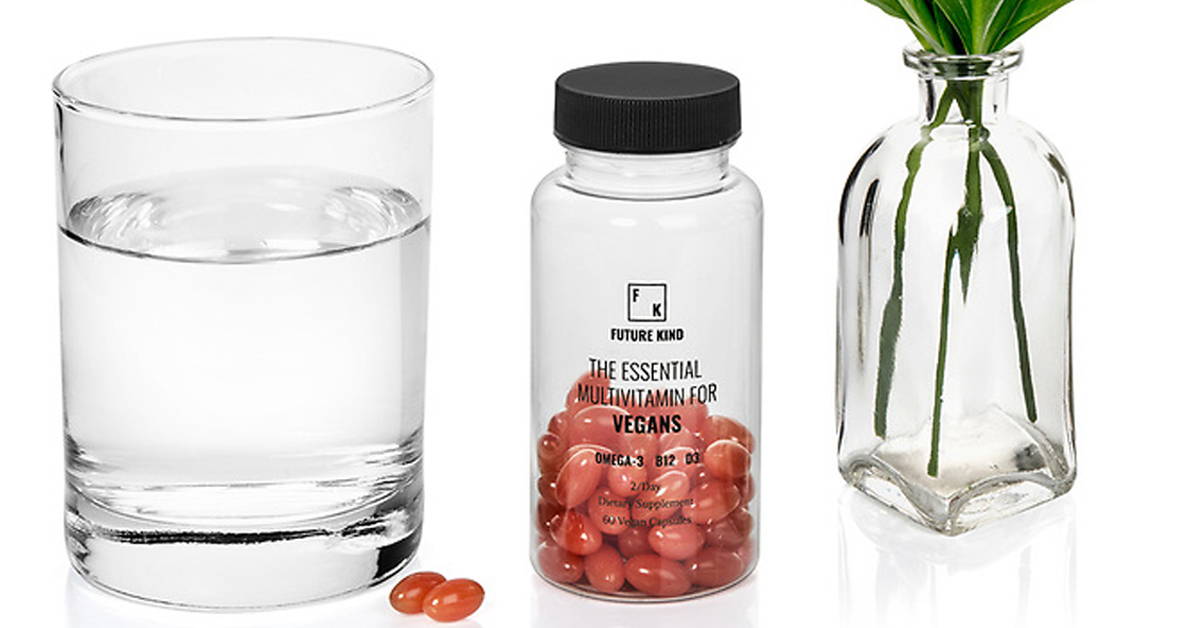 1. most multivitamins contain ingredients that vegans don't need - not these guys
Future Kind's multivitamin contains omega-3, vitamin D and B12. It's really more like a trivitamin, but we'll let them keep their name for now.
When I heard this my first thoughts were, don't we get omega-3 from fish oil, vitamin D from the sun and B12 from nutritional yeast? Yes and no as I discovered.
When it comes to omega-3, the fish that we commonly think of as the source actually get it from algae, which is where Future Kind's omega-3 is from. But can't you also get omega-3 from flax seeds and chia seeds? Technically you can, but of the three main fatty acids that make up Omega-3, ALA, EPA and DHA (stay with me), flax seed and chia seeds only contain ALA. While ALA can then be converted into EPA and DHA, you would need to eat a lot of seeds daily to ensure you're getting enough.
But didn't I hear something about the benefits of omega-3 for your heart being debunked? That's absolutely true. However, I discoverd that omega-3 is actually very important for another part of your body: your brain.
I thought I had them cornered with vitamin D though and while I was right that you can get it from the sun, it turns out that most of us (vegan or not) aren't getting enough. In fact this is a uggeee issue, particularly during winter and for those of us that work indoors. Unlike the vegetarian vitamin D brands, Future Kind gets there D3 from lichen, the plant that grows on trees.
Now B12 I was less surprised about. I knew that it was an issue for vegans (and a lot of meat-eaters too), but I had always heard that you could get it from nutritional yeast, which I eat plenty of. Turns out I was right about this too (genius eh?), but what I hadn't realised was that it doesn't naturally exist in nutritional yeast. In fact it just gets added as a supplement, which makes it tricky to know exactly how much B12 you're really getting. Better to take it as a supplement.
As I scanned the bottle looking for issues, I was happy to see that it contained no gluten, wheat, yeast, nuts, soy, sugar, salt, artificial colors or preservatives and was non-GMO. It also uses natural fillers like coconut oil and sunflower lecithin. The ingedients are also organic (though it's not possible to get algae certified organic). The softgel capsules were easy to swallow (with no taste) and didn't leave me feeling nauseous (wahoo!).
So why only three main ingredients? Because you can get almost everything else from a healthy vegan diet, and I'm happy with that.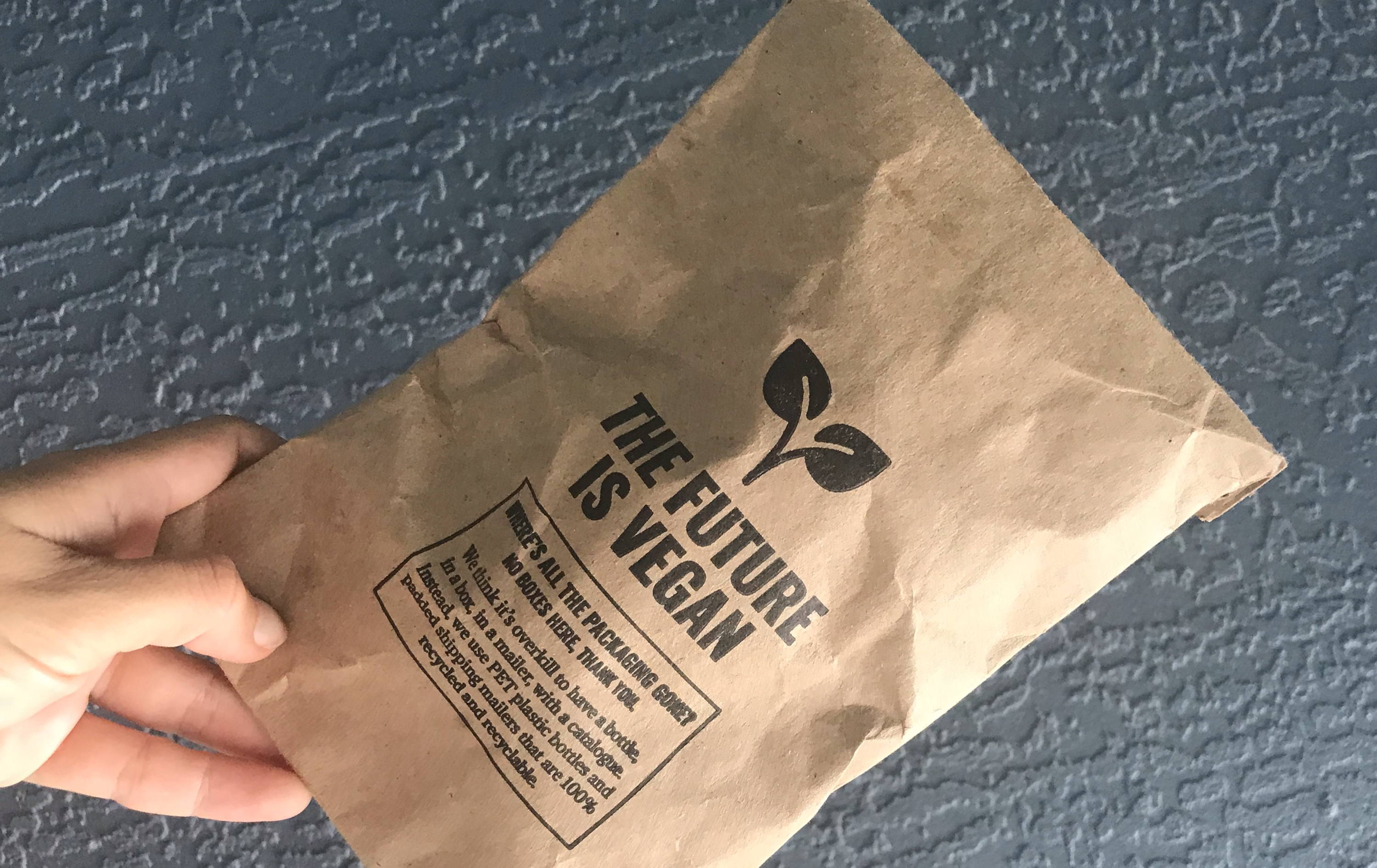 2. future kind is A VEGAN COMPANY ON A MISSION
Most vegan multivitamins are are made by faceless corporations as an after-thought. Some bright spark in the corporate strategy team will realise that they can also launch a vegan multivitamin by simply changing their existing multivitamin. They'll switch out their existing capsule made from "bovine gelatin" (cows skin and bones) and find a vegan alternative. Next, they'll slap on a green V on the packaging and "ta-dah!", you have a vegan multivitamin.

Future Kind on the other hand is a company filled to the brim with vegans (including the three founders). The company is on a mission to "help shift the planet to a plant-based diet" and uses a percentage of their sales to help fund vegan initiatives. They seem to genuinely care about the importance of spreading vegan nutrition information (they personally respond to Facebook comments), and while they're often asked to launch other types of vitamins, they always decline, pointing instead to the fruits or vegetables that you can get the vitamin or mineral from instead. Dr. Michael Greger would be proud.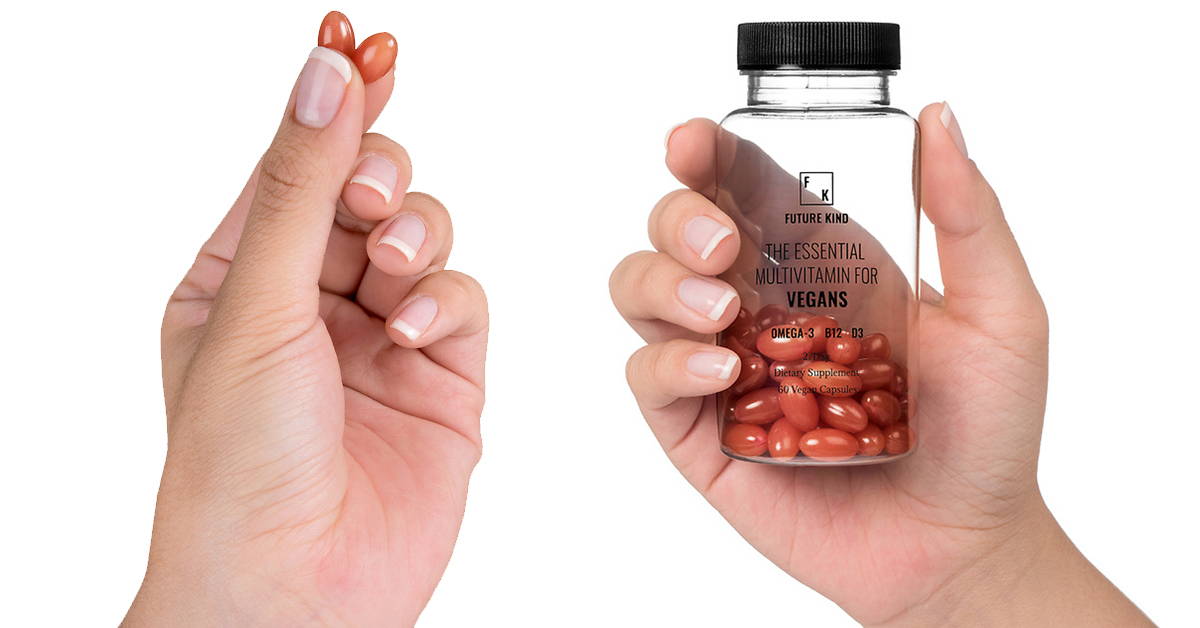 3. It's the only multivitamin THAT comes in 100% RECYCLED PACKAGING
The environment is right at the top of my list of priorities and I cringe a little bit every time I buy something made of plastic. The good news is Future Kind's bottle is made of "100% recycled non-toxic plastic", which I discovered has an even lower impact than "biodegradable material", since a lot of commercialy available biodegradable material can't actually be recycled. The bottles are a little off-colour, but I'd rather that than creating more plastic in this world.
Even their mailers are made from 100% recycled material using old newspapers. There's no fanfare either, just a bottle and the mailer, which for a monthly subscription is just how I like it.

Conclusion: Most vegans would benefit from taking vitamins, but you only need a few. Future Kind seem to have disrupted a market not by adding things, but by what they've taken away.

4. And here's What Happened To My Health
On a personal level, whether it's the placebo-effect or not, after two weeks I felt like I had more energy and a higher level of concentration, so for now I'll be putting my skepticism aside and joining.
You can learn more about Future Kind here.
--
In partnership and republished with Future Kind
Photos: Future Kind