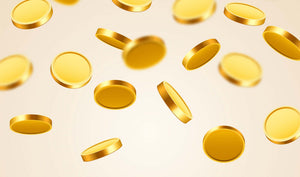 The Currency Made For Giving
Rewarding With Kindness
Kind Coins are a virtual currency we have introduced to reward our customers for their support. Coins can be earned by several ways and can be redeemed as product discounts or donated to our Vegan Animal Sanctuary Fund.
Earning Kind Coins
Place An Order
For every $1 spent on our website, you'll earn 5 Kind Coins.
Follow Us
Follow us on Instagram and Facebook to earn 100 Kind Coins.
Leave A Review
Leave a review for your previous purchase and earn 500 Kind Coins.
🎂 We'll also send you 200 points on your birthday! 🥳
Spending Kind Coins
Convert Coins to Discounts
100 Kind Coins = $1. There is no min or max amount needed to redeem your discount. Access your Kind Coins dashboard, create a discount with your coins and apply that discount during checkout.
Donate Your Coins
Feeling kind? You can also choose to donate your Kind Coins to our Vegan Animal Sanctuary Fund. 100% of donations go to charities.
☝️ If you'd like to redeem your discount for a new subscription, please email us your redeemed code so we can ensure it works.
Start Earning Kind Coins
Please note:
For new members, after signing up, please return to this page and click "GET STARTED" again to access your points.